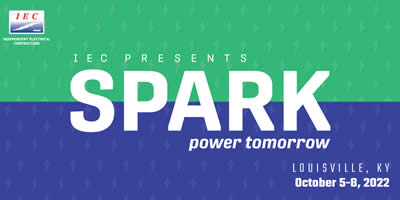 When: October 5 – 8, 2022
Where: Louisville, KY (IEC of Kentucky and Southern Indiana)
At SPARK, you'll have the opportunity to attend innovative educational seminars, visit the state-of-the-art Expo Hall, listen to special guest speakers, and attend numerous networking events. The exciting schedule we have planned this year will provide plenty of time to get to know electrical industry professionals from around the country who represent a broad range of organizations, skill sets, industries, experience levels, and interests.
More details of the event, including a full event agenda, guest speakers, special event locations, and vendors, are coming soon- so be sure to check your email and follow along on social media. We can't wait to see you at this year's event!